Kevin E. Lewis, Realtor® (808) 895-4956 Kevin @ Hiloagent.com Clark Realty Corporation - Hilo Orchid Isle
Home About Me Big Island FAQ Big Island Information Buyers Hawaii Real Estate Real Estate Listings Referrals Sellers
Big Island Hawaii County TMK Tax Map Key Information
Identifying tax key zone and section numbers can help you find the relative location of a property in Hawaii County. The Puna district is zone 1, Hilo zones are 2 & 3, Hamakua is zone 4, Kohala zones are 5 & 6, Kona zones are 7 & 8, Kau is zone 9. Important Note: Hawaii County District Zone numbers are not in any way related to Volcanic Lava Zones numbers!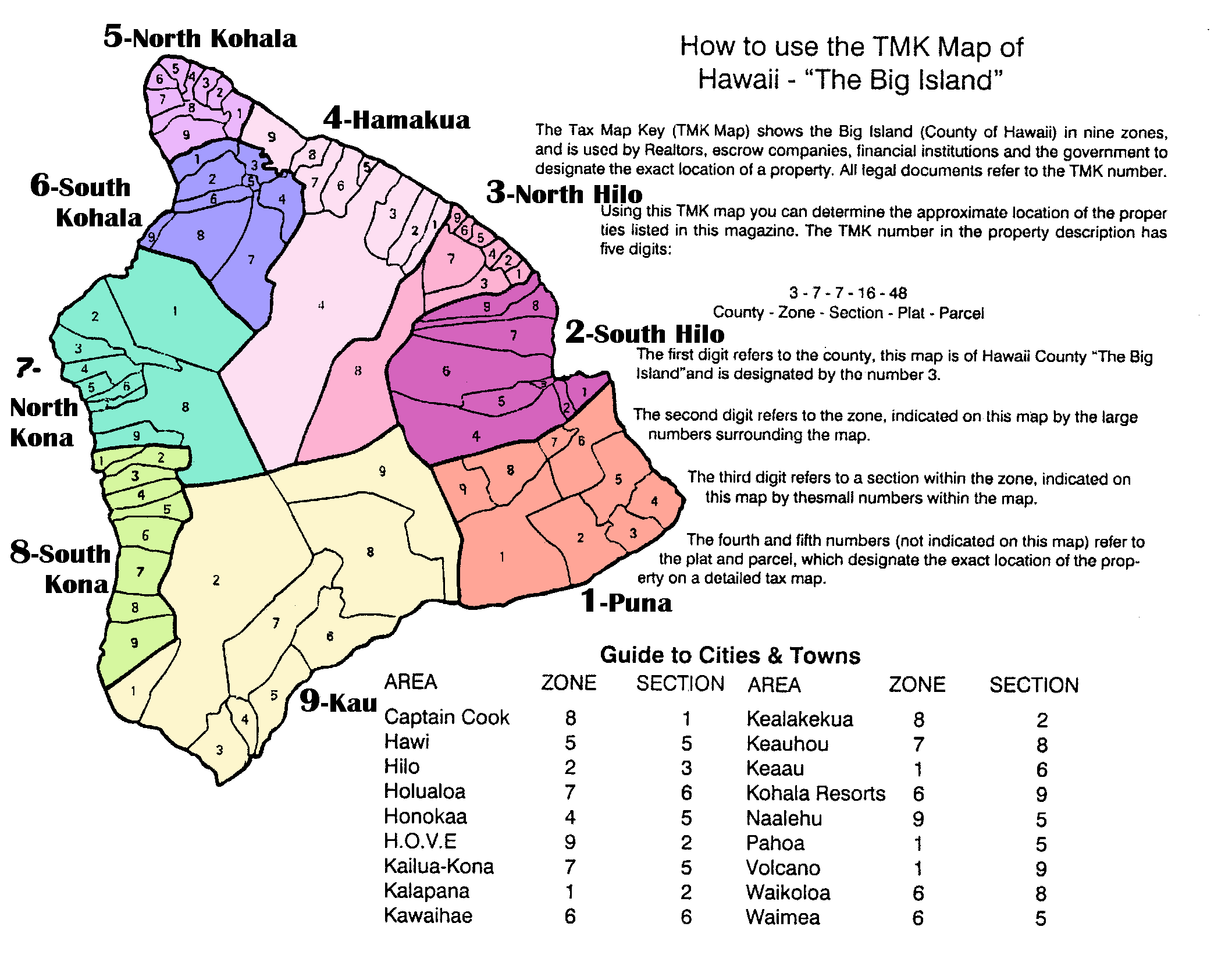 Tax Map Key Numbers are assigned to each property in the State of Hawaii. Division 3 refers to Hawaii County, which is the "Big Island" of Hawaii. Each district within Hawaii County is numbered from 1 to 9. Zone 1 is the Puna district on the map, Zone 2 is South Hilo, etc. The Section number is represented as the smaller numbers 1 through 9 contained within each Zone (District), then subdivided into Plat numbers, Parcel numbers, and when applicable, Unit numbers (for condominiums). This is the system that we have to identify the exact location of a property. It is often more important that an address!
What is a CPR? CPR stands for "Condominium Property Regime" and is usually heard when referring to the "CPR number" which identifies one condominium property from another for tax and sales purposes. The CPR number identifies a specific apartment or a portion of a lot. A condo TMK number looks like this: 3-2-4-66-2-26.
Hawaii Drive Times

Hawaii Island Map

Hawaii Lava Zones

Hawaii

Weather

Puna Map