Kevin E. Lewis, Realtor® Hawaii

Accredited Buyers Representative

Clark Realty Corporation - Hilo Hawaii

Send Me Email (808) 895-4956


Search for Hawaii Homes Condos Land

on my new website BigIslandAgent.com
Home About Me Big Island FAQ Big Island Information Hawaii Books Maps Hawaii Real Estate Real Estate Listings Sellers
Big Island Hawaii Real Estate - Buyers Resources
Five Tips for Home Buyers
#1 – Get your financing before you locate your home.
#2 – Look at the community, not just the house.
#3 – Be fair with your first offer. Trying to low-ball a Seller can backfire.
#4 – Always get a home inspection.
#5 – Do not alienate the Sellers of the home by nitpicking every little detail during the sale.
Every Buyer Says They Want A Good Deal... But That Isn't Enough Information!
1. Shopping for Property. If I can get a good picture of what you really want and can afford, as your Big Island real estate agent I can send you the MLS listings that best match to your goals. I've seen some e-clients focus on the "Cheapest Price", while in doing so may miss the "Better Value" property. Sometimes they spend hours shopping in a certain price range and then say, "I'm not seeing what I want". What they want may be just a little above the price range where we have been looking. Hoping that a Seller will "just give it to me for less" sounds nice, but almost never happens in real life. I have also seen clients spend hours searching for that "Perfect House", but it turned out to be in a different location, or it didn't come up in our MLS search because it didn't match the criteria that was entered. We can accomplish your goal much more easily if we start off looking in the right price range for the property that you want, and in the right location that best fits your needs. Great Price but Unfortunate Location
2. What Are You Really Looking For? A piece of land to build a house or acreage for a farm business or private retreat? A fixer or a simple starter home, a medium priced ready-to-move-into or a newer home that doesn't need much work, or a something special property, perhaps with an ocean view? How far to town, shopping, school, hospital or an airport? How do you feel about unpaved roads and rain water catchment systems? If I have a good idea of what you want, as your real estate agent, I can help simplify the process by sending over some possible choices from our multiple listing service for you to review. Big Island FAQ
Location: We can search for property by Hawaii County district (Hilo, Hamakua, Puna, Kona, Kohala, Kau), by tax map key area, zip code, or by specific subdivision. It's often better to focus on an area first, (price and distance to a town will narrow our search), then look for the best deals in the best fit areas. Tax Map Key Distance Chart
Affordability and Terms of Sale: What are you thinking in terms of price range? Are you pre-approved for loan for that amount? In real estate "You get what you pay for." ie., Fixer or Foreclosure homes are often less money to buy, but require extra cash for the needed repairs, while newer homes usually do not. Big Island home and land prices can also vary widely depending on location. To determine what you can afford, I ask my clients to go to a local lender to get pre-approved for a loan so that we know your financial ability. You can go through an off-island lender, but they may not be familiar with the peculiarities of the Hawaii real estate market or the types of loans that work here. For budgeting purposes, plan on about $500-$600/month for every $100,000 you borrow using a 30 year loan ($650-$750/month on a 15 year loan) plus insurance and property taxes. Real Estate Referrals
Does the property itself qualify for a bank loan? If a Seller is offering to give financing on a Hawaii home, it is usually so they can get a higher than market price for the home, or because the home itself cannot qualify for bank loan (most often due to permit issues.) If a property was constructed without permits, most lenders won't loan on it. If the home is partially permitted, then only the permitted portion will likely be included in the appraisal, so you will need extra cash or Seller financing for the difference between the appraised value and the selling price. You can expect to pay more for a property with Seller financing, and interest rates tend to range about double of the bank rates, and the loan due in full within 2 to 5 years. An alternative for Seller financing on Hawaii vacant land is to get a Personal Loan from a Credit Union, an equity loan on your existing home, or I have even seen some of those credit card check offers to be a good deal!
Size of Property: We can search by the minimum or maximum square foot of house or land, number of bedrooms and bathrooms, etc. Houses tend to be smaller in Hawaii as we have good weather year round, which is also why people like to have outdoor areas and lanais or decks. For land, do you want enough to have a garden and some privacy from neighbors, or acreage for a farm business or a remote forested sanctuary?
Sorting through the Opportunities: I can enter your desired criteria into the search boxes of our MLS, and send you regular property updates that match as they come online. I can also sort for specific words in the listing remarks such as "farm" "fruit trees" "privacy" "stream" "ocean view" "foreclosure", etc. However, this type of search is limited to the comments which the listing agent has entered into the listing remarks. If there are too many listings, we can narrow our search. If not enough interesting properties show up, we can increase the possibilities by adjusting the price or adding alternative areas. If a specific property is of interest, let me know so I can research additional information! If you just want to see "What is Available for the Money", you can get a quick idea by checking out my listings. See My Listings
Our MLS listings are best used as a guide to what is available in the price range. Almost all of my e-clients end up tossing out 90% of what they have seen online once they get here, do their neighborhood drive=bys, and get a real picture of what is what and where the properties are. It does help however to keep a list of the most interesting opportunities so I can check to see which ones are still available when you arrive. It generally works out best when we sit down at the computer together to sort thru the MLS and narrow down from the hundreds of listings to a manageable number of properties. Many clients ask for maps to explore the areas on their own, then we get back together to start booking appointments on the best possibilities.
3. Other Things to Consider
The Hawaii Real Estate "Buying Season" is the first few months of the year. If you are coming here between January and May, please let me know as early as you can so I may reserve time for you. It's true that a handful of the agents are doing the majority of the real estate sales... so it is a good sign that your Hilo Agent has projects he is working on and needs to schedule for you!
How negotiable are the asking prices? In a recent survey of closed transactions, I found that sale prices on the Big Island of Hawaii average 94% of asking prices. "Contingent Upon Sale" and "Low-Ball Offers" are generally not being accepted in our local Hawaii real estate market. Real Estate Market Report
Short Sales and Foreclosures. They sound like a good deal. Sometimes they are, sometimes not, taking into consideration the amount of repair work that the property needs. On a Short Sale, the Seller is trying to get a lower loan payoff amount from the amount they owe. It can take 60 to 90 days, or more, for the Seller to reach a payoff agreement with their lien holders, and it doesn't always happen. The Lien Holder can still ask that the Seller (or Buyer) to cover certain expenses out of pocket, or for the Buyer to increase their offer. You often will have 30 days to close after a short sale agreement is reached. On a Foreclosure, the Bank already owns the property. They want to see proof of funds or a loan pre-approval letter with prior your offer. They often request that you close quickly after an offer is accepted, or require that you pay a penalty for any delay on your end. However, the Bank may not be able to close in time and can be slow to reply with documents and information. So it is a "hurry and wait" situation. It can drive a Buyer crazy! What is a Short Sale What is a Foreclosure
What about "For Sale By Owner" properties? I can work with you though a Buyers Representation Agreement, which means you have hired me to be your real estate agent. Often the Seller pays my fee, sometimes it is the Buyer, sometimes it is shared - it's negotiable and something we consider when we write up our offer. I get paid for spending the time with you to learn about the Big Island, researching and comparing if the property is a good value, and assist as your representative though the offer and escrow process. Why Use a Realtor®
How is the Real Estate Agent paid? Hawaii Real Estate Agents are self-employed. Most Buyers are not only looking at houses, but also shopping for the agent whom they want to work with. I hope to be the one! But that is my point. I'm glad to answer quick questions. However, at some point early in our work, I need to know that I am going to be the agent you go through when you buy a property. I get NUMEROUS inquiries about Hawaii real estate, so I need to be somewhat prudent with my time so that I can be available to my clients for showings, researching, negotiating, and handling the many issues that come up with the inspection, loan and escrows. I only get paid for my time and expense when we close a property transaction. Thank you for understanding! About Me
Summary: Figure out our finances first. Look for the best area on the Big Island based on your price range and the criteria that is important to you. Together, we search for the best opportunities in the right area - not necessarily the cheapest priced property. Our Big Island is wonderful and full of opportunity - from something modest to something special - we have a property for just about everyone!
I hope this information is helpful to you in your search to buy a home or land here on the Big Island of Hawaii. As your agent, we can work as a team to help you narrow down to what you really hope to find, and get your piece of paradise. Aloha from the Big Island of Hawaii. Thank you for visiting my HiloAgent.com website. - Kevin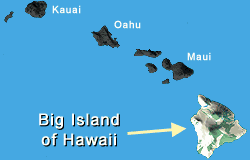 Hilo - Hamakua - Puna - Kona - Kohala - Kau
Need A Realtor® on the Big Island of Hawaii? I'm Glad to Help! Kevin E. Lewis
Search for Big Island homes and land through my new website BigIslandAgent.com
Home Buyer Real Estate Resources
1031 Exchange Hawaii Fair Housing Hawaii Home Sales Statistics Hawaii Housing Programs
Hawaii Title Tenancy Lead Based Paint Mold Information Mortgage Fraud FHA Rehabilitation Loan
Click on Icons above to see my Hawaii Real Estate Websites
| | | | | | |
| --- | --- | --- | --- | --- | --- |
| | | | | | |
| Hawaii Island Map | Hawaii Drive Times | Hawaii Lava Zones | Hawaii Tax Map Key | Hawaii Weather | Puna Maps |

Shop and Save with Amazon.com
Hawaii Island Guides Hawaiian Music
---
Mahalo for visiting my Big Island Hawaii Real Estate Website! Kevin E. Lewis, Realtor® RB-18141 Clark Realty Corporation - Hilo Orchid Isle, NOBODY Knows the Big Island Like We Do!™
Disclosure: The information contained on this website is from various sources that are considered reliable but cannot be guaranteed. I may receive a small commission from products purchased thru links on this website.