Kevin E. Lewis, Realtor® (808) 895-4956 Kevin @ Hiloagent.com Clark Realty Corporation - Hilo Orchid Isle
Home About Me Big Island FAQ Big Island Information Buyers Hawaii Map Books Hawaii Real Estate Real Estate Listings Ready Map Book Referrals Sellers
PAHOA LAVA FLOW MAP HAWAII COUNTY CIVIL DEFENSE
Puna Hawaii Map
The most affordable Hawaii real estate is often found in the developing Puna district on the east side of Hawaii Island. The Puna district is approximately 500 sq miles and is full of variety. Puna has a population of about 45,000 people, which is expected to continue to increase over the next several years. The main towns in Puna are Keaau and Pahoa, where you will find shopping, restaurants, and local county services. Only a small area in or near the Hawaii Volcanoes National Park is covered by recent lava flows, which brings in thousands of tourists to Puna every month. Puna weather has micro-climates from the dryer and warmer areas near the ocean to the cooler tropical rain forest of Glenwood and Volcano. Good values in buildable land homes can be found near the towns of Keaau, Kurtistown, Mountain View, Pahoa, and Volcano.
Click on Map to order this full sized Hawaii Island Map through Amazon.com - Published by University of Hawaii Press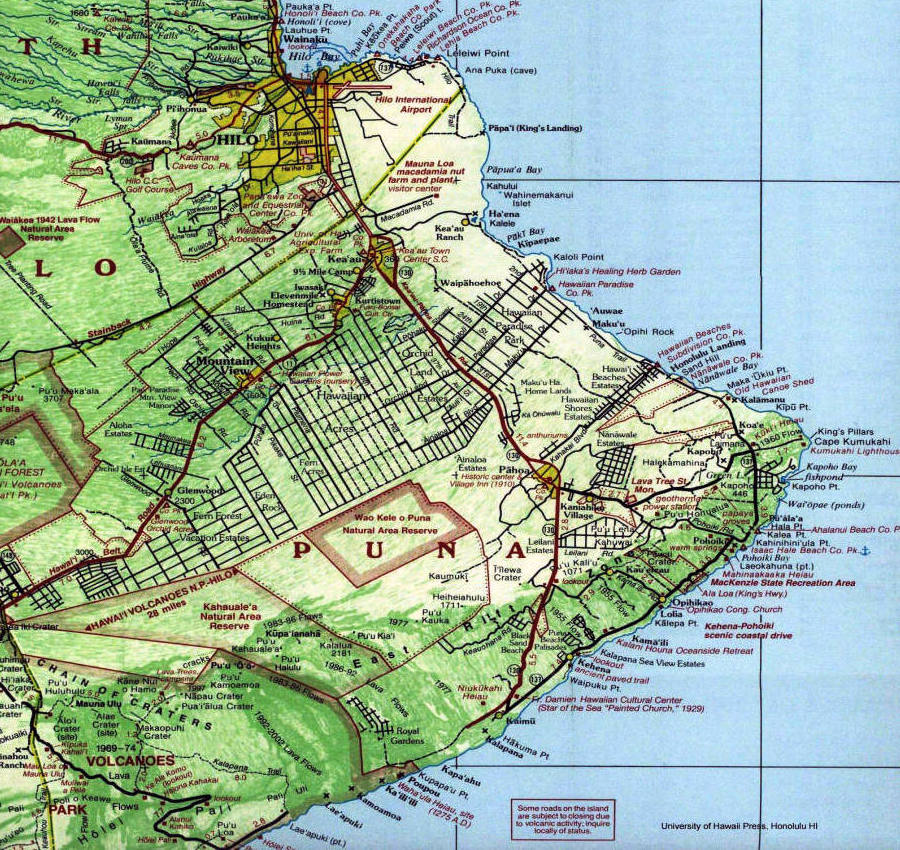 Puna subdivisions and communities include Aloha Estates, Ainaloa, Black Sand Beach, Eden Rock, Fern Acres, Fern Forest Vacation Estates, Hawaiian Acres, Hawaiian Beaches, Hawaiian Paradise Park HPP, Hawaiian Shores, Happy Homes, Kaimu, Kalapana Seaview Estates, Kapoho, Keaau Ag Lots, Kehena Beach, Kopua Farm Lots, Leilani Estates, Mauna Loa Estates, Mountain View, Nanawale Estates, Ohia Estates, Olaa Reservation Lots, Opihikao, Orchid Isle Estates, Orchid Land Estates, Pahoa village, Pacific Paradise Gardens, Paradise Mt View Manor, Pohoiki, Puna Beach Palisades, Royal Hawaiian Estates, Volcano Village, Waa Waa.
Hilo - Hamakua - Puna - Keaau - Kurtistown - Mt View - Pahoa - Volcano
Puna Resources
About Puna Big Island Mileage Drive Times Frequently Asked Questions Puna Homes Land for Sale Ready Map Book East Hawaii
Puna Homeowner Community Associations
Ainaloa Eden Roc Fern Acres Hawaiian Acres Hawaiian Paradise Park Hawaiian Shores Kalapana Seaview Estates
Kapoho Beach Lots Kapoho Vacation Land Leilani Estates Nanawale Estates Orchid Land Estates Volcano Community Association
Puna Hawaii Maps
Hilo Glenwood Keaau Kurtistown Mountain View Pahoa Volcano Puna Zip Codes
Ainaloa Eden Roc Fern Acres Fern Forest Hawaiian Acres Hawaiian Beaches
Hawaiian Paradise Park Hawaiian Shores Leilani Estates Nanawale Estates Orchid Land Estates
East Hawaii Weather Conditions
| | | | | | |
| --- | --- | --- | --- | --- | --- |
| | | | | | |
| Hawaii Drive Times | Hawaii Island Map | Hawaii Tax Map Key | Hawaii Weather | Puna Lava Zones | Puna Subdivisions |
Kevin E Lewis, Realtor serving Hilo Hamakua Puna districts in East Hawaii
---
Mahalo for visiting my Big Island Hawaii Real Estate Website! Kevin E. Lewis, Realtor® Clark Realty Corporation - Hilo Orchid Isle NOBODY Knows the Big Island Like We Do!™
The information contained on this website is from various sources that are considered reliable but cannot be guaranteed. Disclosure: I may receive a small commission from products purchased thru links on this website.